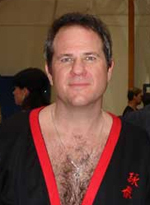 Master William Parker is the owner and head instructor at the San Antonio WingTsun AcademyTM. He is a private student of Great Grandmaster Leung Ting, and has trained in this system since the late 1980's. His accomplishments include:
Competed and placed at the First Chi-Sau Tournament held in Houston, Texas
(Sept. 1990)
Received the title of "Sifu" (Summer 2001)
First American to receive the 4th Technician Level
Achieved the level of "Master" – 5th Level Practician (Dec. 2005)
First American to receive the 6th Practician Rank (March 2011)
Completed the entire Long Pole (Luk-Dim-Boon Kwun) program directly under GGM
Leung Ting.
First American to complete the entire Eight Cutting Knives (Bart Cham Do)
directly from GGM Leung Ting.
Also trained in Fillipino Escrima
Has taught Army personnel at Camp Bullis, as well as members of the Marines 4th
Recon unit in San Antonio.
Has taught at TMI Military Institute in San Antonio.
Under his direction, San Antonio WingTsun™ is one of the longest running
professional WingTsun™ schools in Texas.
To date, Master Parker is the highest ranked and most experienced WT instructor in the San Antonio metro area. Each year, he takes private instruction from his Sifu, GGM Leung Ting.
Master Parker is also a National Instructor for the IWTA-NAS, L.L.C.; he travels to other schools, giving seminars and providing advanced teaching to the students and instructors at affiliated branches.
Sifu Parker holds a Masters Degree in Communications and is an accomplished author. His work has been published in magazines such as Inside Kung Fu and the
San Antonio Fitness and Health.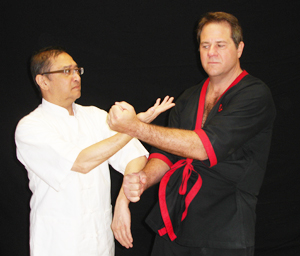 Certificate of completing the Six-and-a-Half-Point Long Pole (Luk-Dim-Boon Kwun) and Chi Kwun
Techniques, awarded October 22, 2006

Certificate of completing the Eight-Cutting
Broadswords (Bart-Cham-Dao) Techniques, awarded October 4th, 2010
 

6th Level Practician, awarded March 31, 2011